"Mr. Levinson, contrary to what you may have read in the tabloids, there is no Area 51.  There is no spaceship," says President Thomas Whitmore to Julius Levinson.  Albert Nimzicki interrupts, "Uh…excuse me, Mr. President?  That's not entirely accurate."  David Levinson responds, "What?  Which part?"
Independence Day was quite the phenomenon 20 years ago.  Its marketing ads were quite effective in building buzz for the film (shadows of large alien ships appearing over major cities; the White House getting blown up); the pre-release
hype turned out to be so great that Warner Bros. ended up moving Tim Burton's similar-themed but comedic Mars Attacks! from the summer to December of 1996 and Steven Spielberg postponed his planned adaptation of War of the Worlds for several years.  I never got to see Roland Emmerich's Independence Day during its original theatrical run; I would have to wait nine years before I would finally be able to see it on the big
screen at the AMC theater on 34th St. in New York City.  I was lucky enough to see it on the big screen for a second time five years ago at a midnight screening at the Landmark Sunshine Cinema (technically on July 4th since it started after midnight!).  I enjoyed it a lot both times, although the second time felt much more special and patriotic.
1996's Independence Day follows a variety of individuals, including an Air Force pilot, a computer expert, and the President of the United States, as they respond
to an extra-terrestrial invasion of the planet Earth.  Emmerich gathered together an impressive ensemble that included Bill Pullman (as President Thomas Whitmore), Jeff Goldblum (as David Levinson), Will Smith (as Captain Steven Hiller), Mary McDonnell (as Marilyn Whitmore), Judd Hirsch (as Julius Levinson), Robert Loggia (as
General William Grey), Randy Quaid (as Russell Casse), Margaret Colin (as Constance Spano), Vivica A. Fox (as Jasmine Dubrow), James Rebhorn (as Albert Nimzicki), Harvey Fierstein (as Marty Gilbert), Adam Baldwin (as Major Mitchell), Brent Spiner (as Dr. Brackish Okun), Mae Whitman (as Patricia Whitmore), Harry Connick Jr. (as Captain
Jimmy Walker), and Dan Lauria (as Commanding Officer).  The entire cast gives terrific performances, especially the big three (Pullman, Goldblum, and Smith).  Spiner is a scene-stealer as the Area 51 doctor who rarely gets to go out, Quaid brings just the right amount of crazy as a former UFO abductee, and Colin brings warmth as Goldblum's ex-wife.
The screenplay by Emmerich and producer Dean Devlin pays homage to the disaster films of the 1970s as well as past sci-fi films (mainly Byron Haskin's The War of the Worlds).  The production design by Oliver Scholl and Patrick
Tatopoulos recreates major cities from across the world and the extra-terrestrial-related designs are stunning (especially the designs of the aliens themselves, and the interiors and exterior of the alien mothership).  Karl Walter Lindenbaum's cinematography is first-rate, and David Brenner's editing moves the film at a great pace.  The Oscar-winning special effects are amazing (the record-setting miniature work still holds up well after 20 years as well as the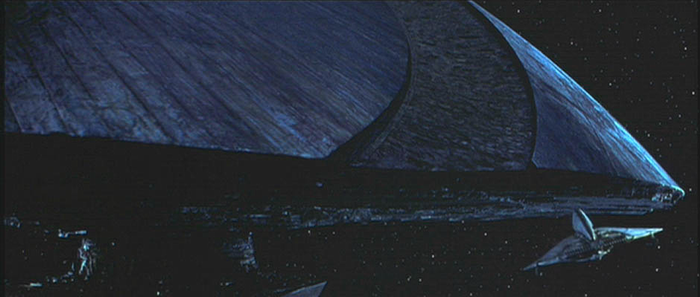 early CGI work).  David Arnold delivers one of his best scores, with a patriotic main theme and thrilling action music.  Emmerich's Independence Day is an Oscar-winning sci-fi disaster flick filled with strong performances and stand-out special effects that captured the attention of the world, becoming the year's highest-grossing film.  Check it out if you haven't already, and avoid the recent sequel if you can.