"Sir, can you tell me why I'm here?" asks Maziar Bahari to his torturer "Rosewater."
Jon Stewart has been the host of the Emmy Award-winning satirical news program The Daily Show on Comedy Central for the last 15 years.  Under his watch, the show has grown from a decent news satire to a great news satire that very often provides more actual news than real news stations and cable channels (it was even joined on Comedy Central nine years ago by a companion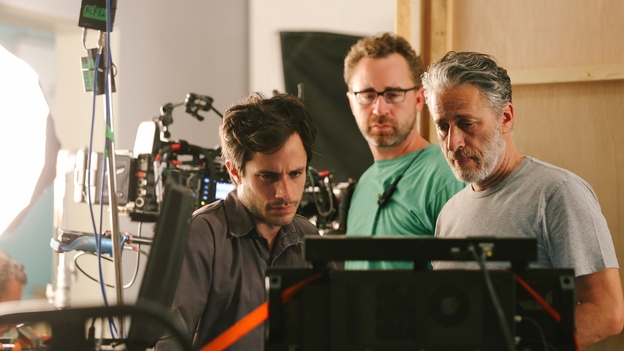 show called The Colbert Report, which is hosted by former Daily Show correspondent Stephen Colbert.  Jon Stewart took a break from hosting The Daily Show during the summer of 2013 to make a movie that would mark his directorial debut.  What was intriguing about this was that the film was not a comedy but rather a drama based on a real life Iranian journalist.  I recently had a chance to see Stewart's film, Rosewater, on the big screen and I enjoyed the gripping tale very much.
2014's Rosewater follows an Iranian journalist, Maziar Bahari, working for Newsweek magazine as he covers the 2009 Iranian presidential election between
President Mahmoud Ahmadinejad and his main challenger Mir-Hossein Mousavi as well as its aftermath (in which the voting results were suspected to be fraudulent, sparking street protests and riots).  The film also covers Bahari's subsequent imprisonment by the Iranian government on the charge of being a spy for the Western world.  Stewart's direction is first-rate, going for a docudrama feel while keeping viewers in the world as Bahari sees it.  Stewart's
terrific screenplay was based on Bahari's memoir Then They Came For Me: A Family's Story of Love, Captivity, and Survival.  Although heavy on drama, Stewart manages to feature some humorous scenes (derived from the drama, of course).  One fine example would be my favorite scene in the film: Bahari citing massage parlor visits as his (false) explanation for his international travels to his torturer.
Rosewater is anchored by an incredible performance by Gael Garcia Bernal as Bahari.  The superb cast also includes Shohreh Aghdashloo (as Bahari's mother), Kim Bodnia (as Javadi aka "Rosewater," Bahari's torturer who was given this
nickname because he always smelled like rosewater), Dimitri Leonidas (as Davood), Haluk Bilginer (as Bahari's father), Claire Foy (as Paola, Bahari's pregnant wife), and a cameo by Daily Show correspondent Jason Jones, who pretended to be a spy while interviewing the real Bahari prior to the 2009 Iranian presidential election and whose satirical interview with him was offered as the reason for Bahari's imprisonment (although it is suggested that Bahari's submission of camera footage of street riots to the BBC might have been the actual reason).
Bobby Bukowski's cinematography creates the docudrama feel that Stewart was going for, and Jay Rabinowitz's editing keeps the film moving at a good pace (never wearing out its welcome).  Howard Shore provides an ethnic-sounding
score that perfectly captures the mood of the film as events unfold.  Stewart's film is a personal plea for journalistic freedom across the world (the film reminds us that there are still numerous journalists sitting in prison cells across the world for having committed the "crime" of bearing witness).  Stewart avoids Hollywood-izing Bahari's story and allows his voice as a filmmaker to seep through.  I'm happily looking forward to future directorial endeavors by Mr. Stewart.